April 29th, 2010
The area of Nubia is situated in the North of Sudan and the South of Egypt and world famous for its Nubian pyramids in Meroe. The largest part of the ancient Nubian Empire was situated on Sudanese territority and today these pyramids and ruins are an important touristic attraction.
Meroe was an important city of the Nubian Empire and is located along the Nile River going southwards in direction of Sudan's capital, Khartoum.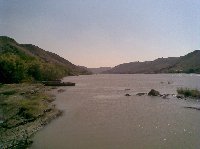 Photos of the Nile River is..
Meroe city was the capital of the Kingdom of Kush many centuries ago and the pyramids of the Kushite rulers can still be seen today.
The pyramids of Moroe can be visited on a camel ride into the desert to the site which is considered the largest archeological site in the world with over two hundred pyramids.