September 17th, 2013
Breakfast at Arusha Coffee Lodge was picture perfect. We had a beautiful table booked for us signed Reservation for Elewana Skysafari looking out over the water basin of the hotel's main court area.
Denis showed us our table and explained all of our breakfast options which consisted in a wide range of cooked and cold dishes such as fruit platters, pastry baskets, custom made omelettes, yoghurts and so much more.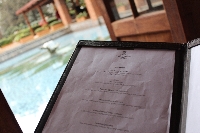 Breakfast Menu Arusha Coffee..
Before leaving for Tanzania I had read a lot about hygiene and more in particular about which foods and drinks we were best to avoid so I asked Denis about the peeled fruits since I thought that all the fruits that were already peeled in the hotel should be left aside because of the tapped water involved in rinsing the fruits and obviously we did not want to get sick on the first day of our safari!
Denis explained that all the fruits and vegetables in Arusha Coffee Lodge and in all Elewana properties are washed with purified water and that their South African chef was catering to all the needs of tourists so we would not have to worry about a thing as far as food was concerned.
Breakfast was very jummy and we loved all the work put into the dishes by the chef. There were all kinds of drinks as well from tea and juices to fresh coffee and water.