September 17th, 2013
After a good night's rest and a very complete breakfast at Arusha Coffee Lodge we had a pickup for our coffee plantation tour nearby the lodge.
The tour was very interesting and our guide explained us how Arusha's arabica coffee beans are grown and harvested before being exported all over the world to end up at some places that we are very fond of such as Starbucks! Who would've thought.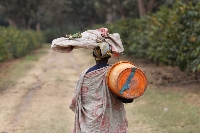 People working on the..
After the coffee plantation tour we had some pure arabica coffee at the beautiful gardens adjacent to the plantation.