September 17th, 2013
After a long flight and arrival at JRO Kilimanjaro Airport we met our transfer chauffeur at arrivals who gave us a very warm welcome and drove us to our first Elewana accomodation, the Arusha Coffee Lodge located in Arusha and about 45 minutes by car from the Airport.
The Arusha Coffee Lodge is a beautiful accomodation located in a lush and green coffee plantation where a number of large cottages are placed throughout the property.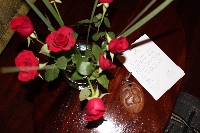 Red Roses Arusha Coffee..
We stayed in cottage number 28 which I requested after reading many Tripadvisor reviews about room recommendations and it turned out to be a gorgeous place!
In fact the cottages are called plantation suites and are placed throughout the plantation area and not on the other side of the property where the rooms would be closer to the main road connecting the hotel with the city of Arusha and where there would be more noise at night. I should mention though that I have not experienced any noise while staying at Arusha Coffee Lodge so I would not be the right person to comment on this.
Upon arrival we were greeted and welcomed by the staff of the Arusha Coffee Lodge with a coffee flavoured cocktail and some warm wet towels. We met our personal butler, Denis who turned out to be a great person and very friendly to show us around the property. He also showed us around all the amazing features of our room which is quite impressive.
Besides the beautifully designed living room of the suite decorated with fresh red roses, chocolates and fresh sealed water bottles we were amazed by the beauty of the bathroom and the of course the very romantic setting of the bed room. The living area and the bed room are divided by a beautiful resin shield with infused coffee beans which light up in beautiful colours when the light runs through the shield as is serves both as a dividing object of art as a lamp.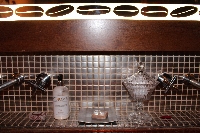 Coffee beans infused resin..
The bath tub was decorated with beautiful flowers and the bath room was big enough for the two of us if not very very comfortable. The resin basin again with infused coffee beans added that design touch to it just like the hand made soaps and lotions did.
The Arusha Coffee Lodge is a place where you can really come to relax after a long flight and eventhough we stayed for one night to kick off our Elewana Skysafari we felt totally relaxed and spoiled by Denis who assisted us at breakfast the next morning.