May 3rd, 2010
The Mkhaya Game Reserve is situated in central Swaziland and is home to some of the most rare species, some even threatened with extinction.
On a wildlife safari through the Mkhaya Game Reserve you will be able to spot white rhino, elephant, antilope, black rhino and other beautiful animals.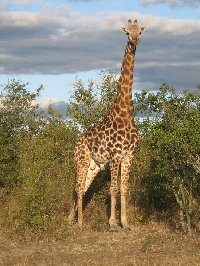 Pictures of a giraffe in the..
Together with our ranger Thulami we started our wildlife adventure in one of Swaziland's beautiful game reserves.
Unfortunately the reserve still has to deal with illegal hunters and especially at night the rangers have to guard this enormous park with their lives.
During our game drive, which lasted about an hour and a half we see elephants, giraffes, rhino's, zebra's, nyala's, antilopes and whartogs, amazing!
After hour jeep safari we return at our accomodation for the next three days, the Stone Camp which is located in the middle of a beautiful forest.
Our cabin has two beds, a shower with hot water and a lot of candles to lit up the room at night and create some atmosphere. We take a shower and eat something with the other couples who joined us on our game drive the same afternoon.
We enjoy a lovely meal looking out over the bush while we try to spot more wildlife and realize just how lucky we are to be in this magic place!