May 7th, 2010
Last september me and my wife left for an exotic two weeks on the island of Mauritius. The island is really beautiful and the beaches are stunning.
One of our favourite places on the island was Blue Bay in the South East of Mauritius. Here you will find the Blue Bay Nature Reserve and some of the islands most beautiful beaches.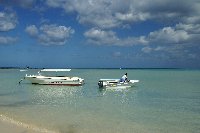 Travel Guide Blue Bay
Other paradisiac beaches which we loved include the Mont Choisy Beach in the North Western tip of Mauritius and nearby Pereybere Beach.
Mauritius actually is a pretty small island and we pretty much saw every angle of it. If you like to go shopping Grand Baie, near Mont Choisy Beach, is great and there are all kinds of stands. We also visited the Botanic Gardens in Pamplemousses.