May 7th, 2010
In January of this year we went on a holiday to Reunion Island and planned a trip around the island with several stops on the way.
From Saint-Denis we travelled east to visit the Niagara Falls near Sainte-Suzanne in the North of Reunion Island.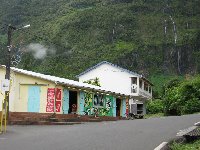 Travel Blog Saint Denis
We also visited Salazie more inland where we stayed for a couple of days to enjoy the beautiful nature in this part of the island.
Besides the Niagara Falls the Biberon Falls and the Grand
Bassin Falls in the central commune of La Plaine-des-Palmistes are also worth a visit and an unforgettable stop on your roadtrip around the island.
The best thing to do is to start your journey in the capital of Saint-Denis on the RN1 and follow this route untill you reach Saint-Benoit where the RN2 begins.
From here its either down south on the RN3 to La Plaine-des-Palmistes and La Plaine des Cafres or west on the loop around the island in direction of Saint-Joseph in the southern tip of Reunion with of course a visit at the Piton de la Fournaise vulcano.
We did both because we didn't want to miss anything of this gorgeous island and had enough time on our hands. After a visit to the town of Saint-Joseph we went to the beach in Grande Anse and completed our adventure by driving in direction of Saint-Paul.
The best thing about a roundtrip by car is that you can decide where you want to stop and for how long. You will have an incredible sense of freedom and the possibility to see a lot of beautiful places.