May 18th, 2010
The Comoros Islands are situated between northeastern Mozambique and Madagascar and we travelled to Grande Comore, the largest island of the archipelago.
The capital of The Comoros Islands and Grande Comore is Moroni which is built around a beautiful bay on the islands west coast and where you'll find the city's harbor.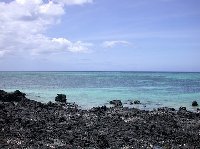 Vacation in Moroni
Facing Harbor Bay there is the Central Mosque, one of the most important buildings of Moroni.
Besides a visit to Moroni Beach we also went to check out the local market in Moroni's Medina and did some sightseeing.
We stayed at Le Moroni Hotel which had a great location and an outside restaurant with lovely views of the ocean. The rooms were fine and could be better but the staff couldn't be more friendly.
During our stay on Moroni we also made a trip to Mohéli Island south of Grande Comore to spot the nestling turtles and of course to look for little ones crawling over the beach.