May 21st, 2010
The Lola Ya Bonobo sanctuary is a new home for orphaned bonobos and situated in a town called Les Petites Chutes de la Lukaya, just outside of Kinshasa in the south western tip of the Democratic Republic of the Congo.
Lola Ya Bonobo cares for more than 60 bonobo orphans and has an incredible staff who does a fantastic job rehabilitating infant orphan bonobos so that they can join the population at the sanctuary.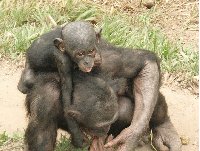 Travel Blog Kinshasa
It was amazing observing these beautiful creatures who are endangered and can be found in the wild only in the Democratic Republic of the Congo.
Along with the Common Chimpanzee, the Bonobo is the closest extant relative to humans and this is more than a scientific fact. Watching these animals was so amazing and every single move they made me realize just how similar they are to us humans!
It was great seeing the animals make contact with us, feeding each other with the daily lunch and relaxing in their forest 'paradise for bonobos', because that is what Lola Ya Bonobo really means to the people of Kinshasa.