May 24th, 2010
One of the most amazing touristic attractions in Guinea Bissau would be the turtle spotting tour on the beach. This tour is held at night in the period around october when the baby turtles are born.
Accompanied by a beach ranger we went to the beach where a mother turtle was waiting for her little ones to break free and make their way to the big ocean.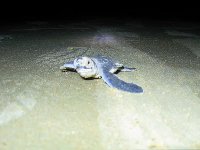 Tours Bissau
When that moment had arrived it was so amazing and emotional at the same time and seeing those tiny creatures struggle for their lives made we want to help them crawl quicker through the sand to get to the water.
The guide told us that unfortuntately not all the baby turtles make it out of their mother's nest but we were lucky enough to see every single one of them dissapear in the dark waters. Like a true mother the big turtle waited for the last baby to get to the water and then vanished just her little babies. An amazing experience!