May 24th, 2010
The Kinkon Falls and the Kambadaga Falls are both located in the heart of Guinea's highlands which are also known as the Fouta Djalon Region.
The Fouta Djalon Region is a beautiful region and often referred to as the Grand Canyon of West Africa. The Kinkon falls are situated 7 km from the city of Pita on the river Kokoulo.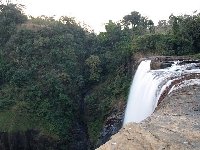 Holiday in Pita
Pita is located south of Labe, one of the biggest city's of Guinea and right in the center of the Fouta Djalon Region making it a perfect base to go hiking, bird watching or simply to enjoy some of the stunning views.
The waterfalls of Kinkon and the falls of Kambadaga are both situated in this beautiful environment and can be visited in one day. A quick dive in the rockpools of these natural showers can freshen up your day of hiking in a second!
To get to the falls you can join several hiking tours which will lead you through the jungle forest and over steep cliffs to some beautiful lookouts. Especially the lookout point upon the Kambadaga Falls is incredible and took my breath away!