May 26th, 2010
Monrovia, the capital of Liberia, can be quite chaotic and a great way to relax and enjoy a cool breeze from the Atlantic would be on the beach.
Monrovia is surrounded by some pretty nice beaches like the gorgeous Golden Beach which personally is one of my favourites.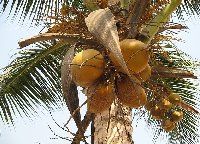 Vacation in Monrovia
Here you'll find a white stretch of golden sand and a great place to sip and unwind, the Golden Beach Cafe. The people here are so friendly and the drinks won't get any fresher.
Especially around sunset Monrovia's Golden Beach is a great place to relax and cool off because the panorama's are stunning.
Other beaches near Monrovia are Elwa Beach, Thinker's Beach and popular Ce Ce Beach. At the first you'll find a clean beach but no extra facilities like at the other two where you will have a beach bar area with beautiful flowers and palm trees. At Cece Beach you can also enjoy the dinner buffet after a long day of sunbathing.