May 31st, 2010
The Rwanda Volcanoes National Park in northwestern Rwanda is home to five of the eight volcanoes of the Virunga Mountains, a volcanic mountain range of East Africa which covers Rwanda, the Democratic Republic of the Congo and Uganda.
The Rwanda Volcanoes National Park is a popular touristic attraction and not just for the hikes up the volacano mountains but also for their mountain gorilla's who's habitat is situated between the two volcanoes of Mount Karisimbi and Mount Bisoke.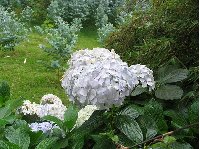 Travel Experience Ruhengeri
The gorilla habitat is made out of forest jungle and bamboo vegetation and make a climb up to the gorilla's habitat an adventurous undertaking.
Te Rwanda Gorilla Tours are very popular with visitors who stay in Ruhengeri, the nearest settlement to the Rwanda Volcanoes National Park. In total we spend an hour with these incredible creatures during our gorilla trek and were so impresssed with how close we could get to them!
Besides the Mountain Gorilla the Rwanda Volcanoes National Park is also home to the Golden Monkey, the buffalo and the elephant. During your Rwanda Gorilla Trek rangers will accompany you and in case of danger garantee your safety.
The rangers met us at the bottom of the mountain after a 45 minute drive. The hike up the mountain took us about an hour and a half uphill to get to the gorilla family which consisted in about twenty gorilla's. We spent a very memorable hour with them.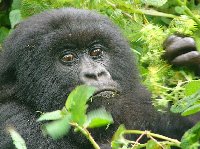 Travel Experience Ruhengeri
The Rwanda Mountain Gorilla's are very shy, and they did not seem to mind human presence at all. The big male silverback sat right beside us for a while and even got intimate with a female gorilla in front of the rangers! An hour went by way too fast, and we had to hike down, back to reality but we will never forget this amazing Rwanda gorilla safari.