May 31st, 2010
Rusizi National Park is located just 10 km north of Bujumbura, the capital of Burundi, and a beautiful area upon the Rusizi River.
The Rusizi National Park is known for its wildlife safari's and the hippo spotting tours which can be done under the surveillance of a Rusizi National Park ranger and either by 4WD or by foot.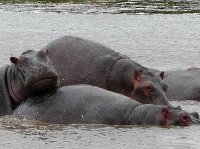 Trip to Bujumbura
The period in which we visited Burundi, between July and August, turned out to be a perfect time and not only weather wise speaking because we had the opportunity to view some newborn Hippopotamuses which was breathtaking.
The Rusizi National Park is also a great place for birdwatching and besides the enormous population of migratory birds you will have the chance to get a closer look of the gorgeous Papyrus Yellow Warbler which builts its nest on the shore of the Rusizi River.