June 7th, 2010
The Central African Republic borders with Chad in the north and travelling down south in direction of the Republic of the Congo was next on our travel programme.
We really wanted to visit the Boali Falls not too far away from Bangui, the capital of the Central African Republic and a good base if you want to travel the southern part of the country.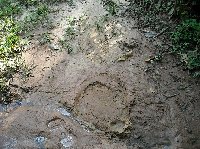 Holiday in Bangui
The Boali waterfalls are located about 50 km north of Bangui and can be visited by any 4x4 vehicle but considering the poor road conditions it can be wise to book a tour or ask for a drive to accompany you on the road from Bangui to Boali.
In normal weather conditions the road is okay and besides some stops along the way to cut through the dense jungle branches and to change a tyre we were lucky it didn't rain because taking one look at the roads in the Central African Republic it won't take you long to realize that rainy season in some parts can be quite a problem..
The Boali Falls were gorgeous and especially from the viewpoint balcony you can get some amazing peeks at these beautiful falls. When we we spotted a brightly coloured rainbow running through the falls the picture was perfect and made my day!
Among the most popular touristic attractions of the Central African Republic definitely deserves a spot the Dzangha-Sangha National Park which is a true delight for wildlife lovers. After an adventurous jungle hike we arrived at this beautiful lookout over the Dzangha-Sangha plains where a group of elephants had come together to bath and play. Again we had a great guide who knew so much about the area and really made us feel at ease.