June 7th, 2010
After our journey through the south of the Central African Republic and after visiting the Dzangha-Sangha National Park we were hooked on the wildlife safaris and wanted to live a similar experience during our stay in the Republic of the Congo.
One of the parks we visited in the Congo was the Odzala National Park in the northwest of the country.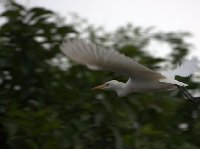 Travel Ewo
The Odzala National Park is home to a large population of forest elephants and one of the last remaining groups of Western Gorilla's in the entire Central African region.
Our guide walked us through the jungle and explained us all kinds of curious little facts about the flora and fauna of the Odzala National Park which was really interesting and made us forget about the steep hike.
All of a sudden he pointed us in the direction where this giant gorilla was taking a nap and we all stood still and gazed like little school childeren during a visit at the local zoo, amazing!
The great thing about the Odzala National Park is that it's so divers and we had the opportunity to see all kinds of animals by jeep safari, on a jungle hike and we also made a canoe trip along the Lekoli River.