June 18th, 2010
This February I went on a holiday to New Zealand to visit Auckland, the capital city and the largest city on the Northern Island.
Auckland is also known as the City of Sails and looking out over the Westhaven Marina, you understand why the city is called this way. The harbour of Auckland is filled with hundreds of docked sail boats and yachts that it has become a national symbol.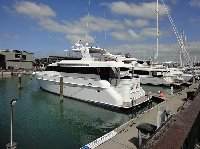 Holiday in Auckland
Besides the beautiful Waitemata Harbour the city skyline is also something that will take your breath away, especially at night with the bright lights colouring the Auckland Sky Tower and the skyscrapers of the CBD.
Besides visiting Auckland Central with the usual stroll along Queen Street starting at the city wharf all the way up to Karangahape Road to take a break a one of the many cafes and bars my holiday also included a visit to Mission Bay, a popular swimming beach near the Waitemata Harbour.
As for Auckland travel tips this city is packed with things to do from the Auckland Zoo and the Auckland Art Gallery to the many shopping malls, museums and cultural events. Certainly not a place to get bored in and a great 2010 travel destination!