August 9th, 2011
The Abel Tasman NP in New Zealand is one of the most secluded national parks and the perfect destination to head to if you plan on travelling through New Zealand crossing from the Northern Island to the Southern Island by ferry.
You can take the ferry from Wellington to Picton and get on the Highway 6 in direction of Richmond. From there on follow the 60 all the way into the Abel Tasman National Park.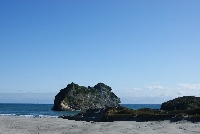 Holiday in Marahau
It is possibile to stay overnight in the park at certain wilderness lodges, hut and chalets like the Ocean View Chalets in Marahau where me and my partner camped!
Marahau is located just at the southern entrance of the national park and offered some amazing views of the parks beaches and beautiful green bush leaves. The staff also helped us plan our stay in the park and arranged for swimming and kayaking trips but there are also plenty of other trips to go on!
From Marahau we continued our exploration on the New Zealand Southern Island by car and drove around the national park along Golden Bay in direction of Collingwood. It was a great start of our stay in the north of Southern Island and I added some photos we took in the park and hope you all like them. See-ya!