March 6th, 2011
Travelling through New Zealand there will be a thousand different tours to choose from; hiking trips, skydiving adventures, snorkeling tours and so much more but if you're on a low budget make sure to go at least on this one!
Me and my friends toured New Zealand's North Island for a month and a half and we knew we wanted to do a scenic flight over Mount Ngauruhoe, an active volcano located in the Tongariro National Park.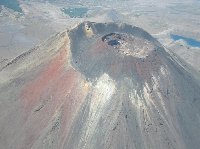 Travel Guide Ngauruhoe
From up above you will be able to get such an amazing view of the Ngauruhoe volcano as well as look out over the gorgeous Emerald Lakes.
Ngauruhoe has erupted quite a few times but most recently in 1977 so chances you will witness another burst are few but you will never know!