March 15th, 2011
Queen Charlotte Sound is located on New Zealand's South Island and offers some of the most stunning walking tracks and if you wish even cruise ship accomodation.
The Queen Charlotte Sound is part of the Marlborough Sounds the famous sea-drowned valleys in the northern tip of the South Island which are a dream come true for adventure seekers and nature lovers like ourselves.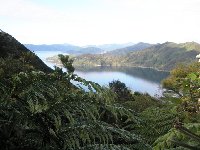 Travel Guide Totaranui
The best place, and the nearest larger city, to start your tour would be Picton from where you can also reach other places like Blenheim and Christchurch by train.
If you're travelling from the North Island towards the South Island of New Zealand you might even find ferries that use Queen Charlotte Sound on their journey.
I added a map of the Walk & Cruise Queen Charlotte Track we did and I would really like to recommend this Cougar Line tour because it was amazing. Basically you can join several day trips and cruises which depart from Picton and tour around Queen Charlotte Sound all arranged by Cougar Line.
There are tours which focus on more active trips including kayaking and biking but also more relaxing ones like cruising and dining and many more. Just look up it on Google and I'm sure there will be a trip that suites your wishes and either you can't go wrong because the travel destination is simply perfect!