June 23rd, 2010
After our stay in Ghana we continued our African travel adventure in direction of Burkina Faso where we visited the capital, Ouagadougou but also Bobo-Dioulasso and Banfora.
Bobo-Dioulasso was one of the places where I really liked the interaction with the locals at the Bobo Dioulasso market where they sold literally everything from fried rats to all kinds of local food and bleating goats, what a great cultural experience!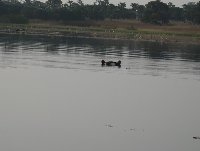 Tours Banfora
Of course we also went to see the Bobo Dioulasso Grand Mosque which is without a doubt the town's major touristic drawcard and a popular place to visit with tourists and locals alike.
Besides the Grand Mosque the Bobo Dioulasso Zoo is another place to visit especially if you're travelling to Burkina Faso with kids. But even if you're not it's a great place to visit and take some pictures of the animals at the zoo. There are all kinds of animals from lions and tigers to monkeys, elephants and hippo's.
From Bobo Dioulasso we travelled to the capital of Burkina Faso, Ouagadougou and Banfora. While the first is a must see for its sculpture park and Ouagadougou Cathedral the second has a stunning nature where you can go and spot wild crocodiles or hike to the Banfora Waterfalls.