July 23rd, 2010
From Orlando we went to Miami where we had booked one of Miami Beach finest hotels to enjoy a beach holiday and see as much as possible of downtown Miami.
In Miami Beach we stayed at the Loews Hotel which is located straight on Collins Ave and near Ocean Drive, the two main streets of Miami.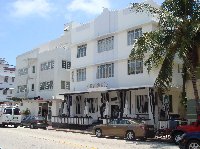 Tours Miami
To get to see some more of Miami we had a rental car which we had arranged two days before coming into town. The rental car was really convenient and helped us to get around for example if we wanted to go shopping.
As for shopping the Aventura Shopping Mall is the best with a lot of nice shops, we even made some pictures at Abercrombie, and nice foodcourts to chill out after a hard day of shopping:)
It was also nice that the Loews Hotel was so close to Ocean Drive and when we didn't feel like lying at the pool we could easily walk to the beach. I also liked the Ocean Drive Art Deco district with beautiful white buildings here and there decorated with an american flag and some fancy boutiques nearby. A very stylish part of Miami.