July 28th, 2010
In December of 2007 I went to Peru, where I travelled the country for about a month departing from Lima. Before exploring the rest of Peru, I decided to stay a week in Lima to see as much as possible from this city.
The thing I really liked about Lima was the historic center and the colonial architecture on the buildings which really gives this city its status and buildings like the ones on Plaza San Martín or Plaza de Armas really represent Lima at its best.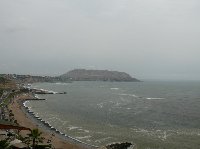 Travel Guide Lima
A lot of tourists visiting Peru arrive at Lima's nearest airport, the Jorge Chávez International Airport which is located in Callao, on Peru's west coast and about ten km west of Lima.
From Callao, a short and not too expensive taxi ride will take you in the heart of historic Lima.
I stayed at the Hostal Residencial El Faro Inn, an ok hostel near the center of Lima which was near Estacion Quilca and well connected by metro like the entire Centro Historico of Lima.
The period I travelled through Peru was around Christmas time and it was really cool to experience a Latin Christmas holiday for a change. The funny thing was that it wasn't that different and they had their Papa Noel and Coca Cola's commercials just like we do. Except for the weather which obviously was not as freezing as back home it felt like a traditional Chrismas.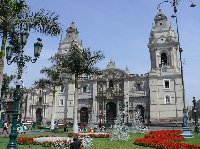 Travel Guide Lima
On Christmas Eve I went to the Parque de la Reserva in Downtown Lima with a couple of guys I met at the hostel which was really cool. The socalled Magic Fountain had amazing light shows and they even had a Fabrica de Papa Noel which was great for all the kids.