March 19th, 2010
After a 14 hour flight with a stop in Madrid I finally arrived in Lima, the capital of Peru.
I didn't really know what to expect because it was the first time I visited a South American country and I knew it had to be different from Europe, but in which way was still a big surprise!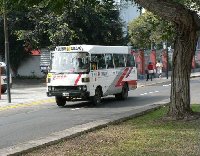 Local bus in Lima, Peru.
The airport of Lima looked amazing and really modern and advanced. I had an amazing curiosity and was really excited to see what was on the other side of the exit.
Once I had walked through the doors it felt like I found myself in the fifties or sixties with all those old American cars driving around, amazing!
While we got closer to the city centre of Lima the scenerery got more developed with better looking houses and buildings. You could see an enormous difference between the poor rural areas and the richer quarters of the big city.
It was something incredible and the gap between these different cultures seemed huge.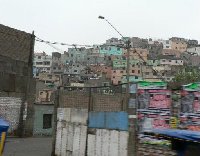 Photo of the Peruvian..
Lima is a dynamic city with on one side those richer and more developed quarters where you will find beautiful green gardens and immense villa's but in other areas you'll find poverty in the purest sense and the panorama is no other than the one of the Brazilian favelas.
The commercial hub of Lima has a growing American culture with enormous skyscrapers, shopping centres and residence areas. It amazed me just how many American franche businesses were around and everywhere I looked I saw American food chain and boutiques.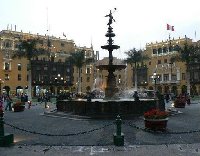 Photo of the Government..
Some of the sights I visited and would defintely recommend are the Museo della Nacion which has an impressive collection of huacos, which are antique vases which belonged to the indigenious people of Peru, and the Museo Nacional de Antropología, Arqueología e Historia where you will be able to admire the Peruvian version of the Teletubbies called El Teletubbies Cabreado.
Definitelt worth a visit are also the quarter of San Isidro, an amazing residencial area, and the quarter of Miraflores with its amazing Indian market and romantic gardens where you can practice the art of paragliding.