July 31st, 2010
Asmara, or Asmera, is the capital city of Eritrea and a very fascinating city for its rich culture and interesting colonial architecture.
The city of Asmara was colonized by Italy in 1889 which was the beginning of a period that gave Asmare the name of La Piccola Roma, or Little Rome.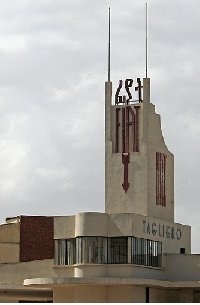 Tours Asmara
The italians brought their way of constructing and their rational architecture to Eritrea and started building a strong Asmara that showed of great status and elegance.
Today the italian colonization of 1889 still shows with buildings that carry their original name like the Cinema Roma and the Cinema Impero. Also some of the streetsigns are left like they were and walking on Via Pomezia in the heart of Eritrea felt really curious.
It is nice to see this mix between italian influences and local customs and buildings. In a city like Asmara it isn't strange to visit both the Asmara Mosque and the Basilica di San Giovanni at the same day. Also the building of Fiat right next to the local african market shows how cultures and traditions are being integrated in the melting pot that is Asmara.