August 13th, 2010
From the northern tip of South Africa we crossed the border with Zimbabwe and headed to Masvingo, a city in the south of Zimbabwe and known for its proximity to the Great Zimbabwe Ruins.
The site of Great Zimbabwe contains the ruins of the former capital of the ancient Kingdom of Zimbabwe and its palace would have served the Zimbabwean monarch.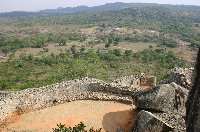 Holiday in Masvingo
When the Europeans came to South Africa they destroyed Great Zimbabwe leaving these ruins behind.
Today the Great Zimbabwe Ruins form a national monument and a logical stop on the way for tourists travelling from South Africa through to Zimbabwe like we did.
We had an organized hike up the hill of the Great Zimbabwe site and from the highest point we had a beautiful panoramic view of the entire valley.