August 13th, 2010
The city of Bulawayo is a great place to stay if you want to visit the Matobo National Park Zimbabwe because it is just a few km away.
We made a jeep safari throught the Matobo National Park and paid a visit to the white rhino comunity inside the game reserve.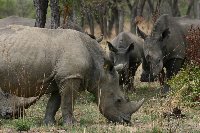 Vacation in Bulawayo
The Matobo National Park is known for being restocked with white and black rhinos as the park has become part of a breeding programme to reintroduce the species to this part of Zimbabwe.
Because of this initiative the Matobo National Park has become an Intensive Protection Zone for the rhino but of course there are also other animals to spot during your safari tour as giraffe, zebra, wildebeest, leopard and antelope.