October 21st, 2010
If you want to go on a game safari through the Hwange National Park in Zimbabwe the best thing to do is to stay right in the park as well to complete the experience.
Me and my wife had looked up the Hwange Hide Safari Camp on the internet before starting our Zimbabwe adventure and knew it would be perfect for us.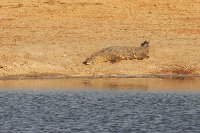 Tourism Hwange
You can decide to camp in real tented suits and I'm not kidding about the luxury terms because no first class hotel room will be able to beat this one, at least not in the heart of Zimbabwe!
At the same time you'll have that raw camping in the wild travel experience and all the comforts of a save camping ground where you can kick back and relax. We also enjoyed our fresh fruit and toast for breakfast in the morning.
The Hwange Hide Safari Camp is located in an incredible part of Zimbabwe and looking out of our 'tents' in the morning the scenery was absurd, so beautiful with the yellow greenish bushlands and burning African sun. I simply couldn't wait to get out there!
The staff was very helpful and gave us all the information we needed. We did several game drives and jeep safari's in the Hwange National Park together with one of the camp's rangers spotting a lot of wildlife.