August 17th, 2010
To get to Odawara City from Kyoto we travelled by train and not just a regular train but the one and only pride of the Japanese Railway, the Shinkansen bullet train.
We travelled a lot by bus but hopping on the Shinkansen bullet train was something else and a whole different travel experience on its own.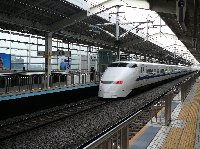 Tourism Odawara City
The Shinkansen bullet train travels way faster than a regular train so it took us a lot less to get from Kyoto to Odawara City.
The Shinkansen bullet train started operating in 1964 in auguration of the Olympics and was at that time the fastest train not only in Japan but in the world.
Tickets are checked on board of the train and there also was an exquisit catering service where we could purchase some drinks and snacks. At Odawara Station we had a new tour guide waiting for us ready to accompany on our road trip through the mountains to Hakone.
After our stay in Hakone we had to pass Odawara City a second time to travel through to Tokyo. During our afternoon there we had the chance to visit the Odawara Castle and pay a quick visit to the Odawara Zoo.