August 25th, 2010
From Dunedin we travelled all the way along the south coast of New Zealand's South Island to Invercargill where we made a stop.
From Invercargill we headed north again and drove in direction of Te Anau, our next destination and known for its beautiful Te Anau Lake, the largest lake on South Islan.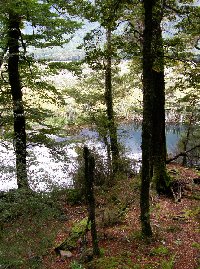 Travel Blog Te Anau
Te Anau is located in Fiordland as it borders the Fiordland National Park and most people spend an afternoon here on their way from Invercargill to Queenstown.
Before heading to Queenstown though we decided to drive even more north to visit Milford Sound, a fjord that has become more and more popular with tourists coming to New Zealand.
Before arriving in Milford Sound we also made a stop at the Mirror Lakes as this set of lakes is located on the road and deserves a quick stop for its beautiful reflections.