August 25th, 2010
From Te Anau we drove about an hour and a half north west to reach Milford Sound, one of the most popular tourist attractions in New Zealand and definitely one of the most photographed places on the South Island.
I had seen some pictures of Milford Sound before but experiencing the beauty of this fjord in real life is something else.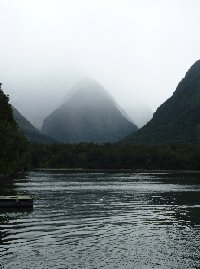 Vacation in Milford Sound
Milford Sound is located within the Fiordland National Park and most people head here with tours from Queenstown which unfortunately has no direction and short road to Milford Sound.
The way to travel from Queenstown to the Fiordland National Park would be through Te Anau so that's why most tours will consist in a visit to both places.
It's also the reason why we decided to drive from Te Anau to Milford Sound and from there on continue our way to Queenstown. For anyone who has been to Milford Sound or has seen pictures from this place, it's clear to see why this is such a popular tourist attraction.
The town of Milford Sound is located a few km inland from the Tasman Sea and is surrounded by sheer rocks and impressive mountain peaks like the well known mountain of Mitre Peak.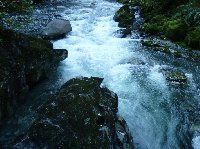 Vacation in Milford Sound
Mitre Peak is without a doubt Milford's most photographed peak as it seems to dominate the beautiful landscape surrounding it.
As a matter of fact the Mitre Peak consists of five seperate peaks which are capable of fooling you into believing they come together as one. A magical panorama!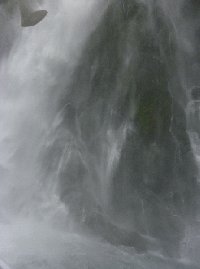 Boat tours through the park can be booked at the Milford Sound Visitor's Center and this is also the place to head to for any other information on the town and its stunning landscape.
You simply can't miss this boat tour as it will lead you along the beautiful cliffs and waterfalls of Milford Sound and if you're lucky you might even catch a whale, seal or penguin hopping and swimming around.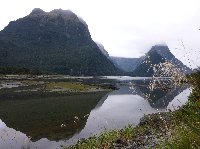 The weather can change every other second around Milford Sound but I guess this would be the only place in the world where wind and rain actually add something to the scenery as the waterfalls come to life showing you some unbelievable vertical drops.