September 2nd, 2010
From Collingwood we packed our backs and left for Nelson, the heart of New Zealand and just a ferry ticket away from Wellington, the capital city of New Zealand and one of the major airports.
Nelson is known as the heart of New Zealand and a lot of people that stay in Wellington do purchase that ferry ticket to see the center of New Zealand with their own eyes.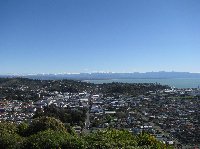 Travel Experience Nelson
The Centre of New Zealand marker has become a national landmark and attractions travellers to Nelson where they will be able to get their picture taken at the place where the surveys on the South Island once started.
Another touristic drawcard of Nelson is formed by the Diocese of Nelson, the local Cathedral also known as the Nelson Christ Church Cathedral.
After a day here we travelled from Nelson to Picton, another well visited town where people can buy inter-island ferry tickets to get to Wellington. But before hopping to New Zealand's North Island we still had some places to discover on South Island, starting with Picton and the Marlborough Sounds river valleys.