September 6th, 2010
After leaving the city of Nelson we had entered the Marlborough Region of New Zealand's South Island which is famous for its gorgeous landscape dominated by the river valleys of the Marlborough Sounds.
We explored these beautiful waters and islands from Picton where we arranged for a boat tour and headed for the sounds of Marlborough.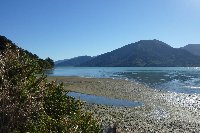 Travel Experience Picton
The tour was amazing and we had some amazing views of the hills, bays and inlets.
To book a tour to Marlborough Sounds the best place to head to would probably be the port of Picton as it is the largest point of departure on the mainland.
From Picton port you'll also be the nearest to the Queen Charlotte Sound, the easternmost drowned river valley of the Marlborough Sounds.
Picton is the largest settlement to stay at if you wan't to sign up for a boat ride or other kind of tour because most of the smaller ports are either private property or very hard to reach.
From Picton it would be logical to move to the Northern Island of New Zealand considering the fact that it's the main port from where ferries from and to Wellington, the capital of New Zealand, operate.
We, on the contrary, decided to prolonge our journey on the Southern Island and headed south of Picton for a 30 min ride to Blenheim, the seat of the Marlborough Region and the most populous city.