September 12th, 2010
This May my family and I went to China for a three weeks round trip. We firs travelled to Shanghai, in the eastern part of China and from here we continued our journey to Beijing, Pinyao, Xian and Yangshuo.
I started this travel blog to share my travel stories and pictures with other people who might want to visit China as it truly is a gorgeous country.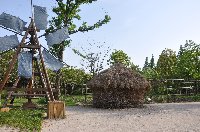 Holiday in Shanghai
I have been to China a few times now as my wife is from Shanghai and we travel there as often as we can to visit relatives and keep in contact with old friends and colleagues.
Shanghai is a beautiful city with a lot of nice tourist attractions. Everytime we come here we enjoy our trip to the fullest and I always end up taking a lot of pictures as the city is full of nice sites and great places to photograph.
Shanghai has a much to offer and even if you're travelling with little kids like we were you'll have no problems organizing your trip. My little ones loved the Shanghai Ocean Aquarium and didn't want to leave!
I personally love the contrasts between modern Shanghai and the pittoresque side of the city with the gorgeous temples and canals curving their way through the city.