March 3rd, 2010
In july of 2005 I had to make a trip to China for work and had the opportunity to spend a week in Shanghia.
The flight from Franfurt in Germany to Shanghai took about twelve hours and eventhough I was pretty tired upon arrival the beauty of this city kept me gazing around.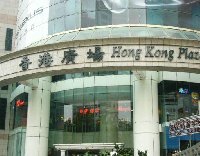 Hong Kong Plaza in Shanghai.
Shanghai can be devided into the older city and the modern CBD filled with skyscrapers and large commercial adds. My hotel was situated in the modern city of Shanghai and my room was located on the 28th floor of this hyper technological place. Amazing!
I spend seven days which I will never forget and the people treated me with such great care. Shanghai is really a travel destination that I would recommend also for the convenient pricing.