October 15th, 2010
For Halloween my family made a trip to Orlando, Florida for a well deserved holiday and to prepare the surprise birthday party of my brother Kyle.
His birthday would be around Halloween and he had been talking about the Halloween Horror Nights in the Universal Studios for about the entire summer.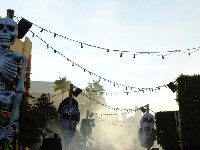 Tourism Orlando
My mum and dad had planned a trip to Orlando to surprise him and together with me and my sister we had thought of all the things we needed to arrange.
On the day of his birthday we told him we were heading to the Universal Studios because we had tickets to celebrate the Halloween Horror Nights there, he went crazy!
Besides the Halloween event there were a lot of great attractions at the Universal Studios and we had a great time there with all the rides, the Harry Potter world and of course spending a great holiday with my family.