April 1st, 2011
Together with four of my best friends I made a trip to Orlando Florida to enjoy a well deserved spring break vacation in Walt Disney World.
The trip was so cool and I only had been to Disney World before but that was like years ago and of course with my parents.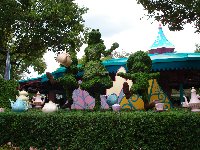 Travel Blog Orlando
The attractions and rides were awesome and we had so much fun running around the park, getting our pictures taken with Minnie Mouse, Cinderella, Goofy and all the other Disney figures.
The parade was definately the highlight of our stay in Orlando and it was done so well with the music, the customs and there was just an amazing atmosphere. We were like a group of five year olds again!!