October 28th, 2010
After graduating earlier this year I started working as much as I could doing all kinds of shifts to save up enough money for the trip of a lifetime, at least for me.
I graduated in Chinese Studies and after a very interesting internship of three months in Beijing I wanted to go back there to explore a different part of China, the autonomous region of Tibet.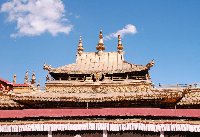 Travel Blog Lhasa
Tibet sounds just as magical as it looks and the people are so warm and welcoming that you seem to forget about other cultural or social barriers.
One of the places that I really loved was Lhasa, known for its Jakhong Temple, a very imporant Tibetan Buddhist site and a very impressive place to visit.
But you can't visit Lhasa without noticing it's most important landmark, the Potala Palace, the residence of the first Dalai Lama, the leader of Tibetan Buddhism and essence of the culture and believes of the people in Tibet.
All these sites make for Lhasa a very spiritual and special place and you can feel that when you're walking through the streets.
Of course you'll find souvenir shops and other typical touristic offers like in any other place but then you look up and see the peaks and hills of the Himalaya Mountains covered in snow contrasting with a sky that's never been more blue and you realize just how special Lhasa is.