September 15th, 2011
The last destination on our Trans Siberia Express Train adventure lies in Tibet and takes us to the beautiful city of Lhasa which today has been discovered by many curious visitors, fanatic hikers and pilgrims.
Our train also made a short stop at the Cuo Na Hu railway station on the eatern shore of Lake Cui Na Hu before entering Lhasa which lies about 500 km to the southwest of the lake.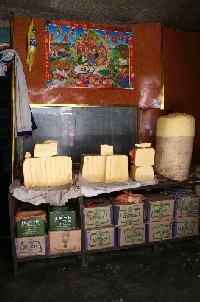 Tourism Lhasa
This tibetan lake is one of the higgest lakes in the world with its 4594 metres above sea level so that was an interesting stop.
Some other altitude extremes we conquered: the peak of Mt. Kangbala lying at 4990 m and beautifully draped with colourful flags. Beautiful landscapes all around and a better view than this is impossibile!
The most famous and popular touristic attraction of Lhasa would be the Potala Palace, an important landmark which is beautiful to watch both during the day and at night.
Lhasa made our Trans Siberia Express Train adventure complete and having travelled to Russia, Mongolia and China we felt so lucky to have lived this experience! I would recommend travelling to these amazing countries to anyone who feels a bit curious about the unknown and is willing to adapt to other environments to get an unforgettable travel experience in return.