November 12th, 2010
This tuesday I came banck from a long weekend off spent with my girlfriend in Budapest, Hungary.
I had never been to Hungary before and had heard that Budapest was a beautiful city so we decided to book a weekend deal on the internet.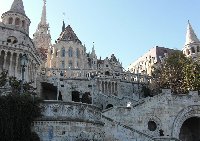 Travel Blog Budapest
In Budapest we stayed at Leda Apartments which was amazing and we had our own luxury apartment, which was very clean by the way, in the heart of Budapest.
Our apartment also had a nice location and was pretty near everything in the Pest side of the city. It also had a kitchen and laundry area where we could really make it our own little home in Budapest. Great Stay!