March 20th, 2010
With a group of my friends we decided to make a trip to Budapest, Hungary.
We stayed for about 6 days which was just enough to do some sightseeing but eventough we didn't stay for a long period we did have a great time.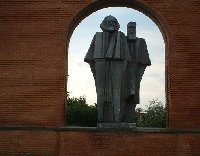 Statues of Marx and Engels,..
It was great to be away from a while and just relax instead of spend a normal weeks at work or studying for exams.
Budapest is a beautiful city with some great panorama's and I really loved the view at night over the River Danube.
Here you will also find all the nice bars and restaurants late in the evening and its a great place to unwind and enjoy this city to the fullest!