September 30th, 2011
Working as a freelancer sometimes implies travelling for the job and this is one of the best parts about it, the freedom and the chance to combine what I do with travelling.
My last trip was a short one though and I spent two days in Budapest in Hungary.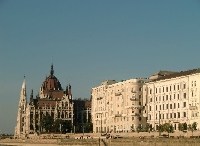 Vacation in Budapest
The weather was nice but considering the tight time frame that I had to deal with I did not get to do a lot of sightseeing around Budapest as I would have liked to. I did go on a boat tour.
This boat tour was actually a great way to see a lot of the city in a short time so if you're staying in Budapest for work I would recommend going on such a tour if you do want to experience the city.
Viking River Cruises is a good operator and also organizes dinners on the Danube River with views of the Chain Bridge, the Parliament Building and Danube Promenade.