February 27th, 2010
My trip to Budapest was quite intense and because we travelled by bus it took us about 17 hours to reach our travel destination. Upon arrival our effort was well compensated and the view of the Fisherman's Bastion was breath taking.
The cold hit us in the face as soon as we got off the bus and the snow storms were tremendous! The next day we started exploring the city of Budapest by foot and discovered its amazing beauty. We visited the beautiful Parliament Building which has a neogothic style and impresses you with its size and eye for detail.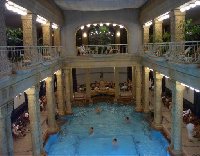 Széchenyi Thermal Bath in..
We also walked over some of the numerous bridges that cross the Danube River and connect the cities of Buda and Pest. The Heroes Square also deserves a visit and is a really nice place to take some pictures.
In the few days we had we tried to see as much as possible but the last day we decided to dedicate our time to the amazing thermal baths of Budapest which are located in the centre of the city. These thermal baths are world famous since 1934 and a perfect way to end a amazing trip.
After an afternoon of total relax spend in the best swimming pools and thermal baths of Budapest we felt fit enough to survive the long ride back home!