June 1st, 2011
For my business trip to Budapest I stayed at the Bara Hotel and wouldn't exactly recommend it but since everything was arranged at the last moment for a sudden conference me and my collegues were left with little options. The bed was incredibly hard and there was a lot of noise.
As for Budapest as a travel destination I would recommend this city and would love to return maybe with my wife and kids.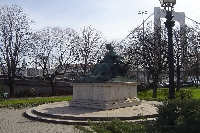 Holiday in Budapest
Chain Bridge over the Danube River reminded me of the London Bridge and the historic centre is really lovely sights like Heroes' Square, the Parliament Building, Fisherman's Bastion and the St. Stephen's Basilica.