November 12th, 2010
Travelling to Machu Picchu is a must when you're staying in Cusco, the historic Inca capital, as it's not only the number one tourist attraction but also one of the most visited Maya sites in Peru.
And what better way to enjoy some of South America's most impressive landscapes than to travel by train? That's why we booked tickets online at Perurail leaving from Cusco and taking us all the way up to Machu Picchu.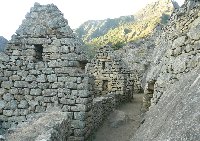 Tours Machu Picchu
I never expected to go on such an adventurous and impressive train ride in my life and the whole experience was really unforgettable.
We travelled from Poroy Station, Cusco in northwestern direction to Ollantaytambo and then from there on through the Sacred Valley of the Inca to Aguas Calientes, a well known train station that connects Machu Picchu with the final station on the Cusco-Ollantaytambo itinerary.
We decided to spend the night in Ollantaytambo to rest a little bit and be prepared for an intens day of hiking in Machu Picchu. The hostel we stayed in was called Los Caminantes and was located right at the train station making it easy to hop on the next train after a good night's rest.
The beauty of Machu Picchu made up for what in the end turned out to be no such thing as a good night's rest and we felt so privileged to be there in that moment that we just sat in silence and smiled. What a gorgeous place!