February 12th, 2010
In 2005 I went to Peru for one month and had to see the famous place of Machu Picchu. To get there from Barcellona I had to take a 14 hour flight with the first stop in Madrid..Fortunately the whole trip was very much worth it!
To get from Cuzco to Aguas Calientes, the last stop up to Machu Picchu, you have to take the train. This isn't one of the economic services and mostly used by tourists coming to see the ruins of Machu Picchu.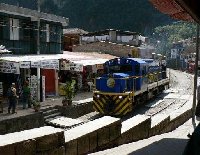 The Train to Machu Picchu
From Aguas Calientes you can take a bus but some people prefer to walk the Inca Trail which probably is more panoramic but a bit more time consuming. If you would have enough time you could do this walk but I you don't it would be better to use the bus.
You have to pay a small entrance fee to get into the village of Machu Picchu and at a time I paid 39 soles. What you will get to see after is very impressive and will definitely take your breath away. There's an incredible atmosphere in this city of the ancient Inca's and their heritage has been conserved so well. You can decide to hire a tourist guide to show you around Machu Picchu for just a few extra soles.
Walkinga around at a height of 2700 meters you still don't feel the cold and imagine I visited Machu Picchu in winter time. The reason for this pleasent climate is that the village is located near the Ceja de Selva, or jungle forest of Peru.
Machu Picchu was discovered in the beginning of the 20th century and the mystery of this historic settlement had been a secret place since the era of the ancient Inca's. Today there are many stories and theories about the role that Machu Picchu played in ancient times and some believe it was a military base and others prefer considering it a religious city or ancient sanctuary. In 2003 Machu Picchu was declared a UNESCO World Heritage Site but a place worth visiting long before that date!