March 5th, 2010
I have been to Machu Picchu in Peru and travelled around for about a month. I visited several places and saw so many interesting things that it would have been better to stay another two months extra.
The Peruvian people are extremely friendly and hospitable. Their mother language and today also the official language of both Peru as Bolivia, next to Spanish, would be Quecha. Some people also speak a little bit of English but mostly in the more touristic parts of the country.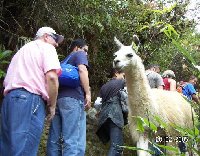 Photo of a local lama in..
Eventhough the main part of the Peruvian people are pacifists there are certain areas which are better to avoid because of the high rate of kidnapping crimes. I did visit a few of these areas and luckily for me I didn't encounter any problems.
Peru is still a convenient travel destination and with a normal ammount of money you can enjoy an amazing holiday. You will also find some beaches in the south but be aware of the cold ocean water!