November 17th, 2010
Arusha was the perfect basis for ou safari holiday in Tanzania. With my wife and two kids we stayed at the Maramboi Tented Camp, located in the heart of Tarangire NP and next to Lake Manyara, two main sites
We could actually see the wild animals grazing near the camp, from our balcony veranda! Especially at sunset and sunrise we loved to sit there and feel this amazing calmness and satisfaction about our time in Tanzania.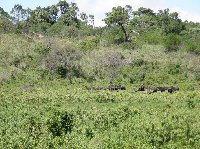 Trip to Arusha
We stayed three days at the Maramboi Tented Camp as part of our safari holiday and it was definitely a highlight on our trip.
The tents were really nicely decorated with the same comforts of any other hotel room but added to that a travel experience that only African wildlife can give you.
The safari trips were amazing and to be able to spot giraffe's, baboons, buffalo's and other animals with my kids was such a joy and the look on their little faces as they stared at a couple of passing zebra's outside our window..priceless!
I would say that staying in Arusha or inside the Tarangire NP is the best way to explore the area and will keep you from spending your Tanzania holiday travelling from one place to another.