October 13th, 2011
We visited the Serengeti National Park near Arusha and had a wonderful time. We have had the opportunity to go on a multiple day safari tour with Fortes Safaris which does both car rentals as tours and they made our time in the Serengeti unforgettable and a memory that we will cherish for always.
The Serengeti National Park is the best place to go in search of Tanzania wildlife and you will get everything and more in return if you visit this park.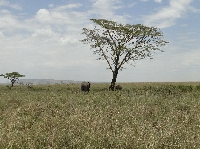 Travel Blog Arusha
We opted for a 4 wd and camping trip because we didn't want to do different game drives in the early morning and by night but we really wanted to experience the Serengeti the right way by spending the whole day observing its locals and the colour changin of the sunlight painting Arusha in all kinds of shades of orange and red.
We saw the Big 5 in action and even witnessed two lions haunting down a zebra and eventually taking her down. It really impressed us a lot and nature so pure is something that we had never experienced.
From Arusha Airport we travelled to Zanzibar by plane and had found out about a low budget carrier called Fly540. We had a great flight and I would definately recommend spending your money on the right things while in Tanzania and not waste any on expensive flights!