January 26th, 2011
Me and my friends celebrated this New Years Eve in Florence at a club called the Yab. The club wasn't to big but quite fancy and they had arranged for a really nice programme.
The evening started around 9pm with a dinner inside the club, and tables were set up on the dancefloor. There were several courses and the food was good.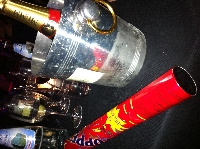 Tourism Florence
We had different types of pasta, some apetizers and of course a second, dessert and some great Mumm champagne.
After a celebrated Happy New Years moment the tables were removed from the dancefloor and the club turned from a restaurant into a nightclub, really well done by the way and the music was really good! We had a great night and the Yab is probably one of the best places to go to at New Years Eve in Florence.
We paid 120 euros pp for the whole night with the dinner and drinks during the dinner. You could also just pay the entrance for 50 euros but you would have missed the best part of the evening plus getting through Florence around midnight is pretty hectic..and cold!